We have a little "Low-Rider" Pit Bull that is a regular Daycare client, named Tigga, whom Blue lovingly nicknamed "Rumproast". OMG, poor little dog... she's from the same bloodlines as Razors Edge, and Gottiline, that you frequently hear about, or commonly see advertised as "real" American Pit Bull Terriers, with the huge heads, apparently made to look like thick, brick shithouses (more like abominations of the Bulldog breed, if you ask me...). They changed the name, and are now calling them "American Bullies" to make them a totally "new" breed (probably because owners and breeders of *real* registered APBTs were getting pissed off with backyard breeders ruining these dogs).
Anyway, when Tigga came into work this morning, I asked her owners what breeder they got her from, because I was curious. I've never actually seen one of these low-rider pits in real life before. So he pointed me to
Bullies Den Kennels
. In browsing through the guy's website, we happened to find a pic of Tigga when she was a puppy (she's the brindle one at the very front)!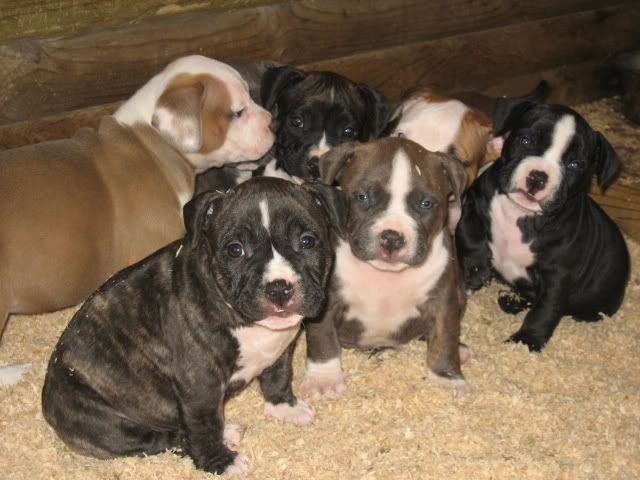 OMG, cute friggin' puppies, but I tell ya, these poor dogs have such health issues! They have bowed legs and breathing issues that are almost as bad as English Bulldogs! Plus, watching Tigga try to go up and down stairs is just sad. She practically slides down them every morning.
Don't get me wrong, these people may certainly breed for temperament, (and thankfully not for fighting... these dogs couldn't fight anyway, given how they have a hard enough time just walking...) and Tigga is definitely well socialized and naturally friendly and enthusiastic. But they're not breeding for health at all, and they are breeding litters constantly. Plus, their website's
photo gallery
doesn't exactly win any extra points for image, since most of these guys are totally Gangsta looking, and posing in front of expensive cars with their dogs. O______o
I often wonder where most of these dogs end up. At least Tigga was lucky enough to end up in a home with the nice people she did. We love Tigga. OMG, Rumproast! XD